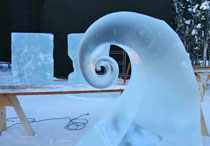 Just getting started on "The Birth of Ice Abstract," for the 2007 World Ice Art Championships. Artists Vitaliy Lednev, Sergey Loginove (Russia), Chuck Carpenter and Denis Abdulin (USA).
Photo credit: Rhonda Konicki for
Ice Alaska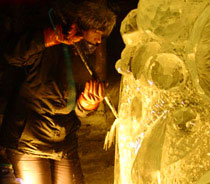 Anita Tabor (with teammate Johnny Patton) puts finishing touches on "Let Your Light Shine Thru," 2006. From a "Walk in the Park" by Steve Iverson.
Photo credit: Steve Iverson for Ice Alaska
Ice Alaska Photo Tours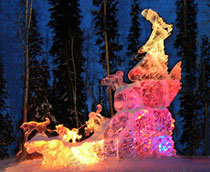 First place winner, World Ice Art Championships 2006, multi-block/ realistic catagory, "Balto's Charge," by Steve Berkshire, Mark Johnson, Stanley Kolonko, and Carl Eady (USA).
Photo credit: Rhonda Koicki and
Tula Belton for Ice Alaska
The World Ice Art Championships Competition
Melissa Chapin and Dick Brickley of Ice Alaska were invaluable helpers in putting together this online show. Ice Alaska is a non-profit corporation that hosts the World Ice Art Championships. It's powered by volunteer effort and event sponsorship by Conoco Phillips, British Petroleum, Sam's Club, and others. Ice Alaska's goals:
To promote artistic and educational endeavors using ice.

To enhance and promote international friendships through cultural and artistic exchange.

To preserve and display all cultures through elegant ice exhibition.

To promote Alaska and encourage winter
tourism and other economic opportunities.
Melissa says that 3.5 million tons of ice were used this year. That's a lot of ice. Since 1988 about 100 ice artists from around the world have made their way to Fairbanks to participate in this event; including artists from China, Japan, Morocco, Malaysia, England, France, Australia, Japan, Mexico, Mongolia, Russia and Finland. Each year about 45,000 visitors, from everywhere, come to view the process and results. You can see this year's sculptures at www.icealaska.com. Here you will find well-organized links to photographic tours, Web cams and video clips.
"Ice sculpting was resurrected in Fairbanks in the late 1980s, thanks in part to the Chinese. Inspired by the world-renowned Ice Sculpture Festival in Harbin, China, the Greater Fairbanks Chamber of Commerce invited sculptors from China to present an ice exhibition to show what could be done."—Christian Science Monitor March 26, 2003, by Mariene Goldman.
Melissa Chapin of Ice Alaska, "There are two classes of competition, single-block and multi-block. In the single-block competition, forty teams of two persons each, receive one block of ice measuring 5'x8'x3'. This block weighs roughly 7,800 pounds (nearly 4 tons!) In the multi-block competitions, twenty teams of four persons each receive 12 blocks of ice measuring 4'x4'x3'. These blocks weigh approximately 3,000 each for an aggregate weight of 36,000 pounds, nearly 18 tons!). Each of the two classes are divided into two categories: abstract and realistic."
There are specific rules for the competition. Among them, artists can only use the ice from the ice block(s) that they receive, and they have two and a half days, from start to final judging, to complete their art. Many artists work long hours into the night. …more