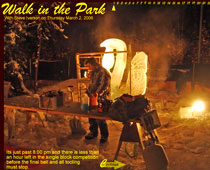 Steve gives us a good sense of the excitement at the World Ice Art Championships in Fairbanks Alaska, with his "Walk in the Park"
Photo credit: Steve Iverson for
Ice Alaska Photo Tours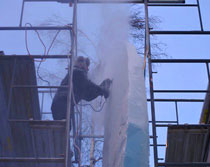 "L'Espaces Temp," just starting. Artists from France and Poland work together on this multi-block realistic sculpture for World Ice Art Championships 2007.
Photo credit: Rhonda Konicki for Ice Alaska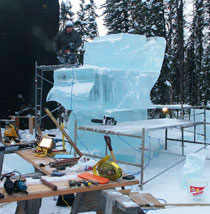 "Sunrise Over Spring Water," Russian and US team roughing out the primary shapes for this prize-winning, multi-block/abstract entry, World Ice Art Championships 2007.
Photo credit: Rhonda Konicki and Tula Belton for
Ice Alaska
If you were to go through the ice park and view all the sculptures you would have walked 1.5 miles. To get a good feel for the excitement of the multi-block event here is an except from "A Walk in the Park," by Ice Alaska's Steve Iverson, March, 2005:
"Chisels and chainsaws cut through the murmur of the crowd and the constant droning of the heavy metal dinosaurs that carry the two and a half ton blocks of ice to and fro.
Unlike the low-key atmosphere of the single-block competition, the excitement in the air here is palpable. The structures are immense and impressive. The talent gathered here is some of the best in the world. As I walk down the rows of ice blocks and scaffolding I think how amazing it would be to watch just one of these incredible pieces being built. But, fourteen unique and wonderful designs being created and revealed all at once is almost overwhelming. Thirty-seven hours into the competition, shapes and expressions are emerging everywhere from the ice.
Chainsaws are often used to do the heavy work of cutting the large blocks into pieces whose dimensions have been worked out in advance. Smaller detail pieces are often carved under high intensity halogen lighting so that the clear ice doesn't "disappear." making it hard for the eye to focus.
High temperatures make gluing impossible. Until nightfall when the thermometer drops back down below freezing, only carving and polishing can be done…"—Visit the Ice Alaska's site for Steve Iverson's "Walk in the Park."
The World Ice Art Competition Web cams offer a glimpse into the life cycle of the sculptures, as the art work develops against a black backdrop cloth and the silent woods behind it. Scaffoldings, blue tarpaulins, tools and cords, forklifts and artists move in time lapse in a cold Alaskan environment. The activity at a site might start at 6:30 a.m. and end at 8 p.m., in the night a snow might fall, and in the end the piece stands for scrutiny under the lights of the judges.
Interestingly enough there are different approaches to sculpting ice, as there are to just about anything else. "Strict planning or impromptu design? Teams have different approaches. According to Ms. Chapin, the Japanese team arrives with nearly everything already choreographed. "They've planned every cut of the chainsaw, so there are no decisions on the spot. Other teams, like mine last year, didn't decide to sculpt together until the evening they were drawing lots for sites. Every day, we basically had to undo what we did the day before."
When the sculptures are complete, a lighting crew, with some input from the artists, decides how each work should be lighted. At night, the translucent ice absorbs the reds, green, yellows, and blues, adding passion to each piece." (Christian Science Monitor March 26, 2003, by Mariene Goldman).
"Ice Art is a copyrighted event. People are encouraged to photograph and videograph the beautiful ice creations for keep sake only. The commercial use of any of the photographs or videographs is prohibited without the written consent of ICE ALASKA."…more