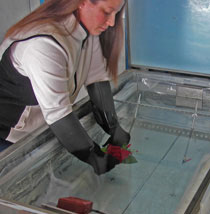 Jeanne Marie Zuleta shows how a flower might be embedded in a clear block of ice.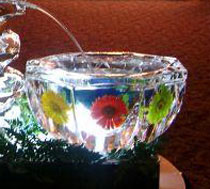 The technique demonstrated above can yeild results like this, clear ice with embedded objects.
Photo credit: Max Zuleta
Art Below Zero
Ice Techniques
To the left, Jeanne Marie Zuleta demonstrates how a flower might be embedded in an ice sculpture cleanly, without bubbles. Max says, "Using the Clinebell machine, it is like making gelatin. If your block with be 10" tall, then at 4 or 5" you can place a flower on the top of the ice, in the water. A little piece of metal holds the flower against the ice. The ice freezes the flower a bit, so it stays in place. The metal piece is removed." The freezing process continues with the flower in place. Because in the tank the ice freezes from the bottom up, this can be done. Apples, flowers, fish, logos and various other objects are embedded in ice by this method. The Harbin Ice Lantern Festival may have employed a similar technique for embedding flowers, as seen in R Todd King's photography of Harbin, 2005 at http://www.rtoddking.com/.
For more in-depth information on ice techniques and technology Max suggests "Ice Sculpting the Modern Way," by Robert Garlough, Randy Finch, and Derek Maxfield. Published by Delmar Learning in 2004.
…more