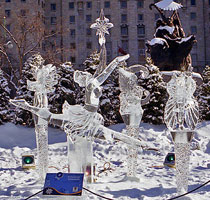 "Enchanted," placed first at Winterlüde Ice Event in Ottawa, Canada 2001. It depicts an in-flight ballerina surrounded by her fairy muses. This piece was inspired
by a ballet dance book.
Photo credit: Max Zuleta
Art Below Zero
Max Bollkman Zuleta began his journey in the hospitalities industry at the young age of 15, working in all facets of a well-established catering business in Caracas, Venezuela. Desiring to be irreplaceable, an old, dusty Japanese ice carving book caught his attention. This interest led him to begin carvings with a handsaw, ice pick and a chisel. His talent, ambition and professionalism allowed him to open his own business "Esculturas en Hielo" in 1989, the only ice carving business servicing the country of Venezuela and surrounding Caribbean Islands. Max's determination to work with ice was unusual and supported only by his desire to take on the challenge. These are the humble beginnings of the first ice sculptor to come from Venezuela.
He moved from Caracas, Venezuela to Chicago, Illinois in 2001 with his wife Jeanne Marie Koivunen-Zuleta. Jeanne Marie is a native of Wisconsin and an experienced professional in the hospitality industry, customer service and business management.
Max's style is a compilation of the many techniques he's studied combined with his own artistic perspective and a true love for the medium. His passion for ice sculpting has taken him all over the world & makes him a crowd favorite. He has exhibited and competed as a consistent medallist worldwide, including France, Holland, Belgium and Germany to Canada and all over the U.S.A. Max is an exceptional professional and well known within the International Ice Sculpting Community.
—from Max's Web site "Art Below Zero." …back to artist's page