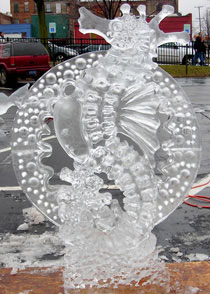 "It's a Daddy," placed second in competition at the Hunter Ice Festival 2006, Niles, Michigan.
Photo credit: Max Zuleta
Art Below Zero
Max Bollkman Zuleta
We first became aware of Max Zuleta's work when we saw
the "Snowflake Wall." It was created with Jeanne Marie Koivunen-Zuleta for an event at Bruges Belgium in 2000. The wall was 24' long and 8' tall. INAXI Holland supplied the blocks, each group received two tons of ice. The snowflakes were flat orbs, engraved with different snowflakes. On the last day of the event, on the way out, all the carvers from the event engraved their names into the wall. There were forty different carvers at the exhibit.
November 2002, was the second Ice and Snow Sculpture Festival, the theme was "Around the World in Snow and Ice." Team Venezuela: Max Zuleta, Diego Zuleta and Leonardo Hidalgo, sculpture named "Catedral de La Sagrada Familia."
The Sea Horse, "It's a Daddy," won a second place, Hunter Ice Festival, Niles, Michigan. A small sculpture, done with one 400 lb. block, it measured 40 x 55". Max worked without a paper template. The drawing was done on paper and then drawn onto the ice with a "Magic Marker." "When is it cold enough, and dry enough, you can draw on the ice with a marker. When it is warmer you can draw using an ice pick or an Exacto blade. The "bubble" texture effect on the belly of the seahorse was created with a large half-moon drill bit used on the back side of the ice and drilled part way into the ice," Max shared with us.
Max Bollkman Zuleta moved to Chicago, Illinois in 2001 from Caracas, Venezuela. He is unique, being an ice sculptor coming from Venezuela, where there is, well, so little ice. Trained in Systems Engineering he strayed from that path, finding more happiness expressing himself through ice, appreciating the speed of the carving and the natural beauty of ice, "clean, clear, and pure," as he describes it. One of Max's original inspirations in working with ice the book "Ice Carving" by Hideo Hasegawa, written in the 1960s. Much of Max's work is international "exhibition art," which we are not featuring in this exhibit. Some of the original competitive carving we saw is not available to show. Max generously agreed to answer some technical questions for us and share some of his experiences in working with ice. In the end, the rules were flexed for him, in part because he helped to show us that there really is an international community of ice artists. Max gives us a glimpse at some of his exhibition work as well as some smaller competitive pieces.
When Max worked at a company in Chicago that created about 500 commercial sculptures a month and says "half of them were swans." He says that ice sculpture is usually about making something pretty, but that he and his wife hope to take ice into a more interactive, sculptural event that leaves an impact, this includes a recent event where kids were given an opportunity to paint on ice. "I remember a time, when I was a child, when my mother took me to a "kid's park. There were tables, with paper and crayons set up and about 500 kids drawing." He was four years old at the time and this made a big impression on him. He would like to offer an "ice canvas" at winter festivals, a block of ice and tempera pigments mixed with gelatin for kids to use. "We mix tempera paint with gelatin. It is liquid when it's in the container, but the paint gets solid when applied to the ice."
He tells us that there is a connection and communication between international ice artists. There is sharing and a free exchange of ideas and techniques. Because of the international ice competitions and exhibitions Max says he has friends all over the world, in "Japan, France, Germany, Holland, Belgium, Alaska, Canada…Africa. Each exhibition has representatives from about twenty countries. You get to know each other. You can get advice and learn from each other."