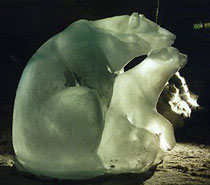 1999 business sculpture for downtown Fairbanks, Alaska,
by Vladimir Zhikhartsev.
Photo credit: Barbara Logan dlogan@alaska.net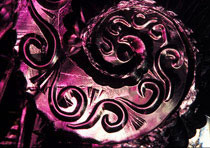 Detail of Vladimir's carving, lit by colored lights.
Photo credit: Patrick J. Endres at
Alaska Photo Graphics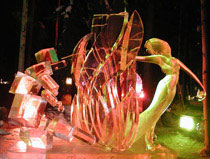 "Fire of Love," won the Ivalie Cox Artists' Choice Award and first place in the single-block/abstract catagory, 2005. Sculpted with Vitaliy Lednev, also of Russia.
Photo credit: Kristin Risung for
Ice Alaska
Vladimir Zhikhartsev is a lyrical abstract sculptor. He brings delicacy, well-crafted textures, beautiful form, and a playful animated quality to all of his work. We were delighted over and over by the attitude and proportions of his work. He is a true artist who often sculpts with Russian teams and also with his wife, Nadya Fedotova. Through Julie Coghill's Ice Alaska pages online we first noticed this artist's work.
Vladimir has been participating in the World Ice Art Championships since 1991. He consistently, and not surprisingly, receives awards: In 1998 his abstract, "Cossack Dancers," won a first place. This is a fantastic sculpture with masterful textures and patterning of the ice, the details lively and well executed. When photographed under colored lights these details are hard to differentiate from carnival glass.
In 1999 "Dark Side of the Moon," a multi-block/abstract, won a first place award. Vladimir Zhikhartsev's Russian team members included Nikolai Zaveriaev. Serguei Longuinov, and Andrey Trifonov.
In 2000 "Coming of Spring," won a first in the abstract category. His partner for this work was Nadya Fedotova. This piece won the Ivalie Cox Artist's Choice Award.
In 2002 "Flame in the Wind," carved with Sergey Loguinov, won first in the single-block/abstract catagory.
In 2006 he won first award for his abstract "Fiddler," which he sculpted with Vitaliy Lednev. This piece also won the Ivalie Cox Artist's Choice Award. This is a lyrical piece with smooth surface textures and a special detail of musical notes coming from the fiddle head of the violin, hinged on tiny ice hinges. The hinges allowed the ice notes to bob in the breeze.
Vladimir's "business sculptures" in ice for the city of Fairbanks are stunning, with an animated realism. In 2001 a sculpture for a dentist featured a wonderful bear wearing braces. Vladimir's work is engaging without being self-conscious.
He is an artist who works in various media, including watercolor. The watercolors include delicate and atmospheric paintings of flowers. His work appears at the New Horizons Gallery in Fairbanks, Alaska.
New Horizons Gallery.