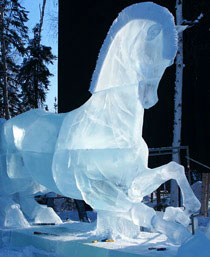 Ice Alaska, World Ice Art Championships 2006. "Cheval Blanc," by Mario Amegee, Andrei Kudrin, Luc Dibbelink
and Floris Vogel of France.
Photo credit:
Rhonda Konicki and Tula Belton for Ice Alaska
_________________________
Special thanks to:
Ice Alaska, World Ice Art Championships
Patrick Endres of
Alaska Photo Graphics

Design by Elise Huffman skidloy@cruzio.com
Advances in photography and the Internet now help preserve this chilly and fragile art form…allowing it to live on digitally and globally, long past its melting point. We are happy to be able to show you some of the nicest ice in the world.
Acknowledgments
Without the generous assistance of Ice Alaska's Melissa Chapin and Dick Brickley this project would not exist. They were enormously helpful allowing us use of imagery, setting up translation assistance and answering a multitude of questions. Grace Chang helped translate for the Chinese artists. Melissa helped with technical information and in put us in contact with various world-famous ice artists. We offer our sincere thanks.
Without excellent photography, ice artists' work would be a fleeting memory come spring. Thank you to all the photographers who helped to show us the beauty of the work through their eyes, Patrick J. Endres of Alaska Photo Graphics, R Todd King, all the Ice Alaska photographers, and other individuals who shared their art with us when they shared their photos. Photographers are acknowledged for their work on the artist's pages ahead.
Thank you to all the sculptors who shared their knowledge and stories with us, as well as their enchanting art, and to those who supplied us with the wisdom of their experience in our technical notes, in particular Max Zuleta of Art Below Zero.
Thank you to Solveig Ayres for her suggestion to research this subject and her help with editing and writing.
Thanks to Wally Parham for his html knowledge and coming to our aide.
—Elise Huffman, curator