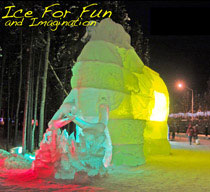 Ice Alaska's World Ice Art Championships in Fairbanks, Alaska. Here lights have been placed inside "Manny the Elephant" in the Kid's Park, not part of the competitive art contest.
Photo credit: Steve Iverson for Ice Alaska
In compiling this exhibit we were cheered to find a network representing a community of artists working in this medium. A remarkable connection and camaraderie exists among ice artists, who often travel and reconnect with each other every year. Many artists allude to their world travel, and adventures, and others to their worldwide friendships. Artists from dozens of countries may be represented at one event. When talking to a Venezuelan sculptor about new ice tools, the name of a tool developer came up, and it is the Alaskan artist's husband whom we had spoken to the day before. Everyone seems to know everyone else. It is a microcosm, a connected world of artists willing to share ideas and help each other problem-solve. We found an international ice art community that we had no idea existed.
Some artists come from a fine arts background and also sculpt bronze or stone, or are talented watercolorists. Others come from, or go into, exhibition or culinary ice carving. Some sculpt snow and sand as well, while others do completely different jobs such as potato farming, computer map making, and engineering.
Ice itself has a natural appeal, like a diamond catching light. Molded by nature, ice and snow attract us with reflected and refracted light, smooth clear surfaces, and transparency. It is a substance we can look deep into.
Although low temperatures can keep ice from melting for months, ice sculpture is relatively short-lived. It epitomizes the delicate and temporal world. It reflects the nature of all we create and perceive, a time-lapsed version of all things that come from the earth and then go back to the earth. Ice sculpture reminds us that art is in the making and in the moment, or moments, days, years or eons that it stands. It depends on a philosophy of passing time, much like music or dance. It is ephemeral. …more