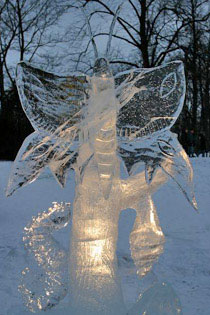 "Metamorphosis," sculpted with Marika Törmikoski for Korkeasaari competition in Helsinki, 2004.
Photo credit: Pasi Laaksonsen
Kai Törmikovski
Kai's work caught our eye because of its simplicity and composition. The surfaces were beautiful, rough in an interesting way. When we contacted Kai we were also pleased to learn that he had some good stories to share. We found his art at the Jäänveisto/Icesculpting site of the Lumihukat Sculpting Team, in Finland.
"Four Seasons" was carved for a national contest in Kalajoki, Finland in 2004, by Kai Törmikoski and Mauno Aihkisalo. It won first prize.
The details on the piece represent the seasons, and are carved into shaped ice panels, with a drill, later filled with snow. The ice is natural ice from a nearby lake. Finland is "the land of thousands lakes." The ice for this event was from small man-made lake, where they keep ducks in the summertime.
One of Kai's most memorable experiences was participating in a competition in Yakutsk, Russia in 2000. He says, "Siberia was really nice. An exotic place in the middle of nowhere." The temperature was something like -30º Celsius (-22º Fahrenheit), but there was nice sunshine. I was there about one week, actually I have been there twice. I was there before, about two years ago." See Kai's diary of one trip to Yakutsk, in artist's notes.
Kai is taking a year off from participating in contests or festivals this winter. He says that "here in Finland it's too warm for ice sculpting now anyway. The temperature now is +3ºC (37ºF) , normally it's something like -20ºC (-4ºF) in January.