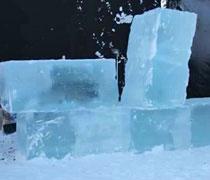 Blocks of ice of ice at the start of the World Ice Art Championships in Fairbanks, Alaska. The "Arctic Diamond," blue lake ice.
Photo credit: Rhonda Konicki
for Ice Alaska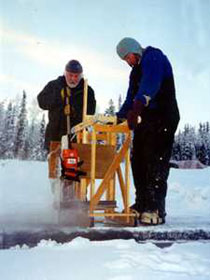 Harvesting ice at O'Grady Pond for Ice Alaska's World Championship Ice Art Event.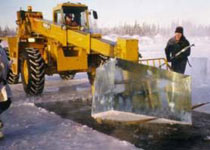 Ice harvest for Ice Alaska event.
Ice Alaska Ice Harvest
Photo credit ice harvest images: Patrick Endres at
Alaska Photo Graphics
We had heard that the quality of ice could be different depending on its temperature, texture, and the quality of the water. We had heard that carving warm ice might be like caring cheese or very cold ice might be very brittle, like carving glass.
Max Zuleta says "Ice is a philosophical material. In can be as hard as a rock, and as delicate as crystal. It takes a lot of strength it takes to cut a two-ton block, but you have to be very careful. There are different textures of ice. At -20ºC (-7ºF) in is very brittle and delicate. The chisels you use must be cold. If the tool is in a warming tent at 26ºC (80ºF) and you use that chisel, the heat will make the block crack into a million pieces."
There are three main sources of ice used in carving, ice cut from a lake or man-made lake, made in a tank, like a Clinebell® machine tank, or "canned" ice, made in an aluminum mold or can. Max helps us understand about three different types of ice:
1. Lake Ice
Ice harvested from natural sources, such as lakes, is clear because "the water is moving as it freezes." The Ice Hotel in Sweden is made of pure, crystal clear ice "on loan from the Torne River." (Finland, Ice Hotel, http://www.icehotel.com/Winter/Icehotel/) The ice for the World Ice Art Competitions in Alaska comes from sediment-free lake sources in Fairbanks, creating a very clear and blue ice. Without sediments to impede their progress the ice crystals can grow into a beautiful ice known as the Arctic Diamond. "Have you seen the equipment that they use to cut ice from a lake? Huge chain saws with 15 foot blades and fork lifts, huge equipment," says Max.
Lake ice freezes from the top down. Lake ice is prized, not only for its clarity, aqua hues, and quality, but also for its size. A huge block harvested from a lake doesn't require stacking blocks to get a large size sculpture. As beautiful as a sculpture might be, made of smaller blocks, the join lines of smaller blocks are visible and detract from the artist's presentation.
Melissa Chapin says, "We harvested 3.5 million tons of ice this year (2007). The harvesting of these hundreds of tons of ice is a huge undertaking. The cutting, loading, hauling, unloading and stacking of the blocks of ice requires countless hours of volunteer time, the use of heavy equipment and constant thought about how it can be done better… The ice is harvested from O'Grady Pond, right adjacent to where the event is held at Ice Park. So far, the 1998 ice, which measured a record 54 inches thick, and holds the record for thickness. Cutting this ice required a 60 inch bar on the chainsaws!" …more