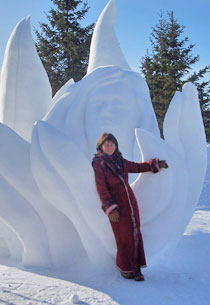 "Nature's Beauty," by Patricia Leguen at Winnipeg Snow Symposium, 2007.
Photo credit: Patricia Leguen
Patricia Leguen
Patricia Leguen lives in Saskatoon, Saskatchewan. She is originally from Saint-Nazaire, France.
Patricia studied Fine Arts at the University of Saskatchewan from 1979 to 1981, and then at the École des Beaux-Arts, in Nantes, France from 1982 to 1983.
From 1993 she has been sculpting snow, ice and sand at numerous international competitions, including events in Canada, Norway, Italy, Russia, the United States, Greenland, the United Kingdom, China, Japan, France, Belgium, United Arab Emirates, and Mexico.
Here are just a few of her awards: Second place at both the 28th International Snow Sculpture Festival in Sapporo, Japan and at the International Snow Sculpture Competition in Harbin, China in 2003. Third place prize at Harbin in 1999. Her team won second place for "Wascana" at Ice Art '96, Fairbanks, Alaska.
She was awarded best handbuilt sand sculpture at the World Championship event at Harrison Hot Springs, BC, Canada in 1999. She also works as a translator and conference interpreter.