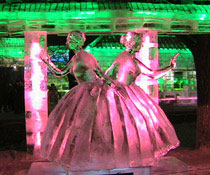 Ballerinas, artist unknown, Harbin Ice and Snow Festival/Ice Lantern Festival.
Photo credit: Sourev Dey
International competitions in sculpting are held annually, usually between January and March. They lure some of the most talented sculptors to the forefront and into the public eye. A few of the largest international competitions include Ice Alaska's World Ice Art Championships, Fairbanks, Alaska (since 1989); Harbin's International Ice and Snow Festival/Ice Lantern Festival, Harbin, China (since 1979); the Sapporo Snow Festival, Japan, (since 1950); Blue Ice Art, Arctic Circle, The Perm International Snow and Ice Sculpture Festival (since 1995); Helsinki's "Art Meets Ice" (held since 2002); Canada's Quebec Winter Festival has included an Ice Palace since 1955; Winterlüde, Ottawa Canada, and Crystal Garden International…and they happen in Ohio, Wyoming, Colorado, New York, Michigan, wherever temperatures fall below freezing, you'll find ice competitions with rich histories and enthusiastic attendees.
Unfortunately, this year, both Harbin's and Sapporo's events experienced unusually warm weather. Artists had to scramble to redo parts of sculptures that were melting or falling apart. Harbin experienced a high of 61º Fahrenheit (16ºC) February 2007. In Sapporo temperatures, typically averaging 26ºF (-3ºC) climbed to 41ºF (5ºC).
St. Petersburg, Russia, historic home of the Ice Palace, helped put ice sculpture on the map. The original palace was constructed in 1740, on the orders of Empress Anna Ioanovna, the Ice Palace has a fascinating history, complete with eccentric characters and events on a grand scale. For 200 years there has been an annual rebuilding of the Ice Palace. This restoration project, using 3 tons of ice from a nearby lake, is now organized by The Art Center Ice Studio. "The Ice Renaissance," by Elif Batnman appeared recently, May 29, 2006, in The New Yorker. (BBC news Feb. 9, 2006)
The Snow Show brings contemporary fine artists and architects together to encourage the artistic use of ice and snow. Conceived of in 2000 by independent curator Lance Fung, the Snow Show pairs teams of artists and architects to launch into experimental and conceptual projects. http:thesnowshow.com. …more