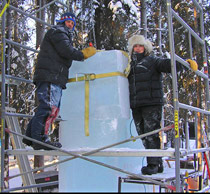 Ice block that will be carved into
"A Litte Help," by Steve Brice and Heather Brown for Ice Alaska's World Ice Art Championships, Fairbanks, Alaska 2007 single-block/realistic division.
Photo credit: Rhonda Konicki for
Ice Alaska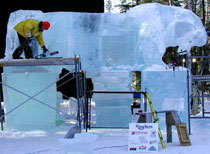 "A Rabbit's View," as a work in progress. 3rd place, multi-block/ realistic catagory, World Ice Art Championships 2004, Fairbanks, Alaska.
Photo credit: Julie Cogill for
Ice Alaska
Technical Notes by Heather Brown
A Rabbit's View (Tiger)—2004, 3rd place, multi-block, realistic, World Ice Art Championships, Fairbanks, Alaska. Steve Brice, Heather Brown, Tajana Raukar (MI), and Martin King (UK); Martin took Steve's Ice Carving class two years prior and won a spot on the team this year. He and his family operate an ice business in Britain. A piece this size takes lots of teamwork. Usually on our teams there are one or two strong carvers that can really move through the ice for rough shaping (Steve and Tajana on this piece) the fine tuning, details, clean up and expediting and sculpting smaller features are left to the rest. The rabbit was placed directly in front of the tiger, 12 feet away or so.
Animal Parade—2005, 1st place, multi-block, realistic, World Ice Art Championships, Fairbanks, Alaska. Heather Brown, Steve Brice, Tajana Raukar, Mario Amegee (France). The sculpture was Steve's idea and my design. We asked their other team members for input as well, as to what animals they would like to carve. We think it is important for everyone on the team to enjoy the aspects that they work on. It is a "team event."
We each had our own critters to focus on: Steve: the rhino, walrus, baboon; Tajana: the giraffes, monkey, and zebra; Heather: the pig, kangaroo, beaver; Mario: the turtle, bird, and roughing of the kangaroo. We all pitched in at the finale to trick out the quills of the porcupine, finish the beaver and additional details to make the piece cohesive. If it looks like many different styles and artists were involved, a piece is rarely successful. A team effort is always important at critical times in the competition. The piece is only as good as the combined efforts. The porcupine quills were done by making many thin slices with a chain saw in a small block of ice, then slicing again the opposite direction until we had many splinters about 1/2" x 1/2" x 9"- to 14". Then a propane torch was used to round them and obtain points. Steve then meticulously drilled holes in the body of the critter and glued each fat ended quill into the hole using a small syringe filled with water. The same technique was used on the Rabbit's View tiger whiskers.
Allure—2006, 3rd place, single-block, realistic, World Ice Art Championships, Fairbanks, Alaska. Heather Brown and Joan Brice. I've included the original drawing, and some of the templates for the design. A starting point for all my pieces. The snow filled eye was the final touch; the rest I just had a feeling it would "pop"! I like to make pieces that the viewer can identify with in some way…in this one, you're the morsel!
The sculpture kept it's lure almost a week. Ice is surprisingly strong. As long as the weld has complete surface contact it and there is not too much weight, welds will hold a long time. My original design had a much larger arch to the lure. Reducing it made it lots easier to glue. As it was, it did get knocked off two hours before finish time but we were able to re-attach it in time. Always a little excitement involved! Heather included drawings and photos of the angler fish, "Allure," that she and Joan sculpted last March at the World Ice Art Championships.
Time for Tea—2006, 3rd place multi-block, realistic, World Ice Art Championships, Fairbanks, Alaska. This was a modified design from Steve's 2006, Turin, Italy, Olympic piece "Tea for Two," (he placed 5th with that piece), Steve, Heather, Aaron Costic, and Joan Brice, Steve did the Centaur's torso and head, and Aaron focused mainly the horse body, with Heather and Joan doing finishing work, hand sanding, texturing, fine tuning, and carving the small critters. During the stacking and rough carving we all pitch in running tools to each other, fetching the fork lift operators, and lots of other prep type work. Competition Ice Sculpting at this size is more than an art form it is an athletic event.
Aaron Costic says, "I think it is really more of an artistic event than an athletic event," and laughs, "Carvers are trying to say it's an athletic event so that it can become an athletic event at the Olympics, with all the backing…" The tools he used in the process of creating the horse, "from the waste down," included chain saw to start, chisels, grinders and sanders. How was that soft matt texture created on the body of the centaur? "In wasn't just one tool, it was the entire carving process that creates a texture like that. Several tools are in use. At the end it is sanded by hand and small Japanese texture tool is also used." He adds, "There is good chemistry with this team. These people are not only talented but fun to work with," he told us.…more