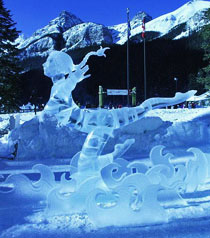 "Levitation," by Steve Brice and Heather Brown won first place, a NICA gold medal, and an Artist's Choice Award at the Annual Ice Magic International Ice Sculpture Competition at Lake Louise, 2007.
Photo credit: Heather Brown
Steve Brice
Originally a stone and bronze sculptor, Steve started his career in ice sculpture in 1990. Since then, Steve has won 13 gold medals in Fairbanks Alaska's World Ice Art Championships, as well as three second place, and four third place titles. He has traveled world wide for exhibitions and competitions taking firsts in Pello, Finland; Bokrijk Belgium; and Lake Louise, Alberta. He won three consecutive United States Olympic Ice Sculpting Trials where he has gone on to represent the US in Nagano, Japan 1998; Salt Lake City 2002; and Torino, Italy 2006. Steve is the creator, designer, and lead artist of the Aurora Ice Museum at Chena Hot Springs Resort, Alaska. It was originally created in 2004, and again in 2005. Now it is the only year round ice hotel in the world and has gained world wide media coverage. In Addition to sculpting, Steve is an inventor who created many of the tools of the trade. Many of them are used by sculptors worldwide. www.stevebrice.net
Heather Brown-Brice
Originally a bronze and mixed-media sculptor, Heather began her career in ice in 1999. She earned her first gold medal in the World Ice Art Championship four-man event that year and, since then, she has won three additional gold medals and four third places in the two Fairbanks events held each year. Her team finished First in Lake Louise, Alberta with the piece titled "Tiger by the Tail." Heather was chosen as an alternate for the Torino, Italy 2006 Olympic Ice Competition where she represented the United States, and has traveled to Germany and Austria for exhibitions and commission projects. Heather works along side her partner and now husband, Steve Brice, at the Aurora Ice Museum at Chena Hot Springs Resort, Alaska near their home in Fairbanks, Alaska.
Aaron Costic
Aaron has been sculpting ice since 1989. "Art is in the making, not the keeping." is Aaron's motto. He won an Olympic Gold Medal in Torino, Italy, during the 2006 Winter Olympics for an abstract sculpture. Photos of his ice sculptures are on-line at www.eleganticve.com. He started in a culinary program carving "chocolate, cheese, and animal fat," and then focused on ice.
Joan Brice
Joan has resided in Fairbanks since 1967. She enjoys working with landscaping, gardening, and ice. She has been sculpting for nine years and has been a member of several award-winning teams in competitions held in Alaska and Canada. Some of her work in the Kids' Park has been featured in local brochures and periodicals.
Mario Amegee
Mario is from France and was born in Togo, Africa. He has studied the art of ice sculpting with Michell Amman in Paris since 1995. He won first place in an ice sculpting competition in 1999 in France, a second place in 2003 in the Crystal Garden Ice Carving competition in Canada, and the Carvers' Choice Award in the same place in 2005. In Ice Art 2005, Mario won first place in multi-block as a member of the "Animal Parade" team.
Tajana Raukar
Tjana has won awards at World Ice Art Championships since 2001 and a fourth place at the Olympics ice carving in 2002. She has been sculpting ice at Ice Dreams since 1998.
…back to artists' page