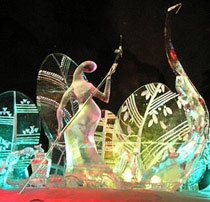 "Spring," detail of woman in fishing boat, 2006.
Photo: Rhonda Konicki and
Tula Belton for Ice Alaska
Qifeng An and Zhe An, sculpted a piece called "Love" that caught our attention. It has smooth elegant forms and a sense of relationship within the pieces. These sculptors are highly honored. We read somewhere online, a "blog" that will remain illusively nameless, that seeing "this sculpture alone was worth the price of admission" to The World Ice Art Championships. We became aware of these artists and their work on Ice Alaska's site.
Harbin's Ice Lantern
Ice Festivals have been a long time winter tradition in Harbin, China. The Ice Lantern Festival began long ago in the Qing Dynasty (1644-1911). People made winter lanterns out of ice by filling a container with water and setting it out in the cold. When the sides froze thick enough to stand alone, the rest of the water was poured out of the container, leaving an ice shell. The container was warmed enough to release the ice shell and the shell was removed from the container. A hole in the top allowed a candle to be put inside the icy cavity. This made a lantern that could not be blown out by the wind. These lanterns were both attractive and practical. They became part of winter celebrations and still are today.
Different tools and techniques now make more complex and delicate designs possible. Harbin is famous for imbedding lights in the ice. Colored ice is made with food coloring. Clear ice doesn't show very well in the daytime, but even in the brightest light of day, the colored ice is attractive.
Today's Ice Lantern Harbin Ice Festival is held in Heilongjiang, China. Nowadays, Ice Lantern in a broad sense refers to a series of plastic arts using ice and snow as raw material combining ice artworks with colored lights, laser lights and splendid music. The specific patterns of ice lantern include ice and snow sculptures, ice flowers, ice architectures and so on. …more