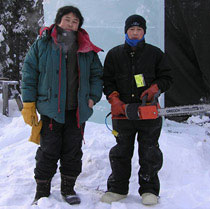 Qifeng An (left) and Zhe An (right) pose in front of a block of ice just before sculpting competition, Ice Alaska's World Ice Art Championships in Fairbanks,
Alaska, 2007.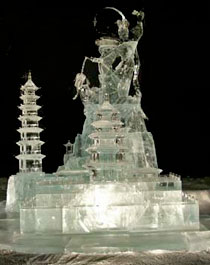 "Chang Ur Returns to Moon Palace," winner of the 2007 multi-block/realistic catagory, World Ice Art Championships. Artists: Qifeng An, Zhe An, Da Quan Zhang and Da Li Liu of the People's Republic of China.
Photo credit: Rhonda Konicki for Ice Alaska
Qifeng An
Mr. Qifeng An and his uncle, Mr. Zhe An, often work together. One of their featured pieces was "Love." Growing up in Harbin, Heilongjiang Province, ice and snow was part of their environment. In school, Qifeng An always took classes in art and because ice was readily available, he chose it as his medium when he began sculpting in 1981.
He participated in the Ice Lantern festival many times, winning first prize three times for ice sculpture. Qifeng An is a member of the Ice Artists Association of Harbin City, China. He competed in the Harbin Ice and Snow Festival in 1982, and won third prize. Between 1982 and 1989, he attended the Harbin Ice and Snow Festival and Harbin International Ice Sculpture Competitions, winning first, second and third place on many occasions. He became a truly international artist in 1987. In 1989, he traveled to the United States with Yan's team to sculpt ice in St. Paul, Minnesota. Since then he has sculpted ice for indoor shows in Canada, Thailand, Australia, Spain, the Netherlands, Sweden, Finland and Hong Kong. In 2000 and 2002 he attended the international competitions in Milwaukee and Khabarovsk and won first place. In 2004, he and Daquan Zhang won both Artist's and People's Choice awards in Fairbanks, Alaska for his sculpture "Dragon Boat." In Fairbanks, at the World Ice Art Championships in 2005, he was awarded second place in single-block, fourth place in multi-block, Artist's Choice Award, and Governor's Award.
Qifeng An emphasized how important his mentor, Mr. Shichang Yang, was to him. Mr. Yang was vice chair in 1986 and since 2006, is chair of Harbin, Heilongjiang Province Arts Association. He was a professor at Harbin at the school of technology; a master teacher; and Vice Chair of the National Ice and Snow Sculpting Event.
Zhe An
Zhe An is a developing young ice artist from Harbin City, China. His interest in ice sculpting was deeply influenced by his family. He has won second place in the Harbin 1998 Ice Sculpture Championship and second place in the Harbin 1999 Snow Sculpture Championship. He is a member of the Ice Artist's Association of Harbin City. In 2005, he was awarded second place in single-block, fourth place in multi-block, Artist's Choice Award, and Governor's Award.
…back to Artist's Page